Key Team Members
Richard Blain – Chief Executive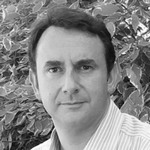 Richard Blain is the founder and CEO of Earth-i. He was the founder and CEO of Aerospace Resources Ltd (ARL), an aerospace services and consulting company with an extensive track record in the defence and security sectors. ARL conducts a wide range of activities including airborne surveillance, military aircraft spares provision, aircraft maintenance support, and operation of aircraft in oil spill response and surveillance roles.
Prior to ARL, Richard was the Commercial Director and Chief Pilot for Farnborough Aircraft Corporation Ltd, which developed an advanced turboprop aircraft for corporate and air taxi use.
Richard was also the founder of Health Partners Europe Ltd, which facilitates and manages the healthcare needs of over 90% of all professional footballers and cricketers in England & Wales.
Richard remains a Non-Executive Director of ARL and Health Partners Ltd.
Paul Majmader – Commercial Director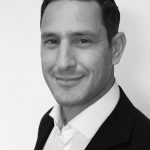 Paul Majmader was the Commercial Director of Aerospace Resources Ltd for 5 years, focusing on satellite-related activities and taking a pivotal role, with Richard Blain, in the founding and development of Earth-i.
Paul has held directorships in companies across the globe, including as the Chief Operating Officer of the Valmore Group, a privately held group of companies, controlling assets in excess of $1billion USD.
Paul holds a BA in European Business Studies and is highly experienced in international commerce, operating worldwide in financial services, property development, heavy industry, hospitality, trade finance and commodities trading.
Alex Stott – Finance Director

Alex Stott is the Finance Director and Company Secretary of Earth-i. Alex is a Chartered Accountant with over 20 years' industry experience, specialising in the Enterprise Information Technology and Services sector; he brings a broad range of financial and corporate experience to Earth-i.
Alex has worked in financial and commercial roles at board level developing and implementing strategy, as well as managing teams to successfully deliver stated business objectives.
Alex has held a variety of lead roles at companies within the telecommunications sector, including a Managed Telecommunications Services company delivering fixed and mobile services to UK and international clients. He was Chief Commercial Officer of the SAS Group of Companies prior to joining Earth-i, and previously served a 3-year term as Chairman of the Board.
Alex spent 7 years as a Senior Lecturer at Rhodes University in South Africa, teaching finance and accounting programmes for undergraduate and Masters' students. He has a degree in Law from Leeds University and is a member of the ICAEW.
Jonathan Sumner – Business Development Director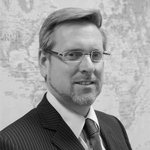 Jonathan brings broad experience and skills in business development and new ventures in the aerospace, aviation and travel sectors. Most recently he led start-up venture First Echelon, optimising the supply chain for military and commercial legacy aircraft brought through new technology. Prior to that, as Managing Director of Fly Victor he played a leading role in the establishment of disruptive technology in the private jet marketplace in 2012.
Jonathan's early career began with a range of marketing management positions at STA Travel, United Airlines, Delta Air Lines and Hilton International. Since leaving the corporate world in 2001 Jonathan played a leading role in a number of new ventures in the worlds of commercial aviation and digital marketing. He was closely involved in the development of the Farnborough Aircraft F1 Kestrel business turboprop, leading the marketing strategy and the development of a unique air taxi business model and associated operating system.
He led the marketing strategy for the launch in Europe of the Marquis Jet Card, an innovative private jet product. He led the turnaround of a direct marketing services agency, and the launch of e-Rewards Europe, a market research sampling company, and was Managing Director of consulting firm Aerospace Resources working on a range of aerospace-related business development projects.
Jonathan holds an MBA with a specialisation in Marketing from City University Business School in London.
Owen Hawkins – Operations Director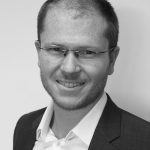 With a wealth of experience in the space industry including several years developing, selling and delivering Earth Observation data and value added products to customers across the globe, Owen leads Earth-i's highly qualified operations team.
Prior to joining Earth-i, Owen was the Senior Business Development Manager at Surrey Satellite Technology Ltd (SSTL), guiding product development and helping SSTL's customers to make optimal use of their satellites. He previously worked as a Business Development Manager for SSTL's wholly-owned subsidiary, DMC International Imaging (DMCii), that managed the Disaster Monitoring Constellation and provided satellite images and value-added services to clients globally. At DMCii he was responsible for the distribution and sale of satellite imagery, and the development of new data products.
Owen has an MSc in Nanoscale Science and Technology, and a BSc in Physics and Electronics, both from the University of Leeds.
Dr. Peter Hausknecht – Chief Scientist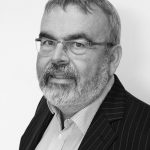 Peter Hausknecht has 25 years' experience as a subject matter expert in Earth Observation, using airborne and satellite sensors.
Prior to joining Earth-i, Peter worked for Woodside, Australia's largest oil & gas company, where he led the GIS, Mapping and Modelling team supervising remote sensing projects within the company. He was a founding member of the Earth Observation committee of the International Association of Oil & Gas producers, subsequently becoming the committee's chairman.
He has a PhD in Geoscience from Munich University, with a thesis on remote sensing systems.
Paul Brooks – Technical Engineering Lead, Earth Observation

Paul has an outstanding global track record for innovative, high value development, management and growth of new business in the international space and aerospace markets. He has delivered significant success on major commercial and institutional projects in applications and technology.
Former Director of Earth Observation programmes at Surrey Satellite Technology Ltd, the world's leading manufacturer of small satellites and an Airbus subsidiary. Further experience includes the UK Zephyr HALE UAV programme, Skynet military communications, international collaboration on space based surveillance and management of collaborative funding on behalf of UK Ministry of Defence and the UK Space Agency.
Jonathan Dixon – Technical Engineering Lead, Sensor Technology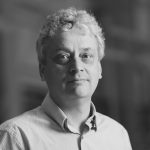 An outstanding track record for leading the design, development and completion of complex space and aerospace projects, Jonathan has delivered a wide range of demanding programmes including MWIR, Mars Melacom and the World record breaking Zephyr 7 UAV and specialises in project delivery, risk management, communications, power and radar systems. Prior to joining Earth-i Jonathan led the Zephyr HALE UAV team in QinetiQ and continues the engineering leadership of this programme.
Adrian Norris – General Manager

Adrian took a central role in the founding of Earth-i Ltd and provides managerial leadership to the broader Earth-i team.
Adrian was previously a Director of Farnborough Aircraft Corporation Ltd (FACL), and a Director and co-founder of Kestrel Aircraft Company in the United States. Prior to Kestrel and FACL, Adrian was Director of Projects for TNT Express, a global transport company with 75,000 employees and €7billion revenues. He was a member of the Executive Board, leading change programmes to standardise business processes and information systems worldwide, and responsible for post-acquisition integration activities.
Adrian has a degree in Chemistry from York University, and is a Sloan Fellow of the London Business School with an MSc in Management.
David Hatch – Client Services Director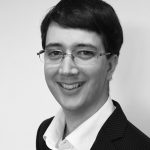 An experienced project and quality management professional, David began his career at Aerospace Resources Ltd, and subsequently Satellite Resources Ltd, managing a wide range of aerospace activities, including several complex bid-writing and consultancy projects to military and defence organisations worldwide. For several years, his focus has been on opportunities in the commercial satellite industry, playing a key role in the inception and development of Earth-i and leading the service delivery of Earth-i's major contracts. Most recently, this includes successful delivery of very high resolution optical imagery for the entire State of Queensland, Australia under Earth-i's landmark contract establishing Earth-i's wide area coverage capability using the DMC3 constellation.
David's role at Earth-i is to ensure excellence in client service delivery and maintaining high customer satisfaction. In addition to managing the successful delivery of image data, processing and value-added services, he is also responsible for the implementation and maintenance of Earth-i's internationally recognised Quality Management System, certified to the ISO9001:2015 standard.
David has a BA (Hons) in Politics with International Studies from the University of Surrey, holds a number of Project and Process Management qualifications including PRINCE2 Practitioner, AgilePM and Lean Six Sigma (Green Belt certified). He is also a Chartered Quality Professional, Member of the Chartered Quality Institute (CQP MCQI) and a Member of the Institute of Leadership and Management.​​​​​​
Gareth Crisford – Sales and Business Development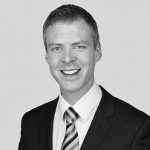 Gareth is a seasoned business consultant in the geospatial industry having joined Earth-i with the benefits of considerable industry experience built up during his time at CGG; NPA Satellite Mapping and previously Exelis.
With a broad range of sales and consultation programme experience backing up Gareth's comprehensive industry knowledge, he provides an effective and highly constructive contribution to Earth-i's business development and client consultation teams.
Dr. Colin Grant – Oil and Gas Specialist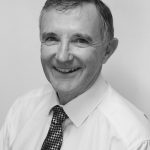 Following a 30-year career with BP Colin provides geomatics and met-ocean expertise to Earth-i's operations and product development team. He is working on the oil industry's Oil Spill Joint Industry Project to improve oil spill response, coordinating activities linked to surveillance, modelling and visualisation. This project is run by the International Association of Oil & Gas Producers, and by IPIECA – the global oil and gas association for environmental and social issues, which is the industry's principal channel of communication with the United Nations.
Colin's early career was as an offshore weather forecaster. He became BP's global technical authority for meteorology and oceanography. He has a PhD in Satellite Meteorology from the University of Bristol.
Dr. Steve Mackin – Remote Sensing Specialist
Steve is the founder of EO Sense Ltd, and works as an advisor to Earth-i. He was the Chief Scientist at DMCii until August 2014. He was responsible for evaluation of new sensors developed by SSTL, the calibration of sensors, development of QA/QC methods and automated ground segment elements. He also developed software solutions for image processing.
Prior to DMCii, Steve was a senior lecturer at the University of Surrey Space Centre. Steve has a PhD in Hyperspectral Remote Sensing from the University of Durham, and a BSc from the University of Leicester.