SAVANT Copper is the first product available under the SAVANT family. It was developed by Earth-i in partnership with Marex Spectron, supported by the European Space Agency (ESA). It provides information relating to copper smelters around the world. Global indices showing worldwide smelter activity levels (Activity Dispersion) and percentage of smelter capacity that is inactive (Inactive Capacity) are provided. Regional and country-specific indices, and individual smelter details are also available.
The Inactive Capacity indices measure the percentage of smelter capacity that is not available due to the inactivity of smelters. SAVANT uses satellite data to determine whether characteristic smelting activity is happening at each smelter and aggregates this into global, regional and country indices (regional sub-country indices are also provided for China). At an individual smelter level, the status of each smelter is classified as active or inactive based on whether activity is detected or not; at the index level a value of 0 shows no smelters are inactive, while an unlikely value of 100 would show that all smelters are inactive. Each smelter's contribution to an index is scaled based on its capacity, so a large smelter contributes proportionally more than a small one. The Inactive Capacity indices thus relate to the proportion of smelters (by capacity) that are subject to maintenance or shutdown at a particular time.
Most smelters are active most of the time – the Activity Dispersion indices measure how active they are. The satellite data is used to calculate an activity dispersion value for each smelter. Rather than being a binary reading of active or inactive, this is a more granular measure that takes account of all the activity that a satellite reading captures. An algorithm weights and counts the areas of smelting activity (hotspots) that are detected and derives a related score, which is used to calculate a dispersion value that is normalised to a mean of 50, with a minimum of 0 and a maximum of 100. These values are aggregated into global, regional and country indices (scaled against the smelter's capacities), as with the Inactive Capacity indices. The Activity Dispersion indices thus show peaks and troughs in activity against an average level of 50. Note that a value of 50 does not mean smelters are 50% active, but indicates this is the typical (mean) level of activity.
Earth Observation data in the infrared and visible bands is collected from three different satellite constellations, including Copernicus and NASA systems. The data from the satellites is combined with the smelter site operational details, layout and historical activity levels, and other data sources as required. It goes through a series of processing steps based on artificial intelligence and machine learning to derive separate areas of activity characteristic of copper smelting. Based on whether activity is detected, the smelter status is set as active or inactive, and the dispersion activity is calculated as described above.
Atmospheric issues such as cloud, haze and fog mean that some satellite readings have to be discarded, although we can often use Earth-i's machine learning models to extract and analyse data though partial cloud. The use of three satellite systems means that each smelter is updated every three days on average, even when taking into account the effects of cloud and similar issues.
Earth-i currently incorporates approximately seventy-five smelters in the SAVANT indices, representing published capacity of over 15,000 kT/a. Based on International Copper Study Group figures, this covers 70% of global copper smelting capacity and 85% of Chinese smelting capacity. Enterprise users can also see additional smelters in the "Trial Smelters" area, where either the smelter is not fully online yet or the data is not consistent enough to include in the indices.
Earth-i locate and monitor the sites where new smelters have been announced, tracking the site through its testing and trial phases. Data from these sites will be shown in the "Trial Smelters" area during this period. Once a site has been announced as operational, then Earth-i will add it to the SAVANT Copper indices. Similarly, smelters will be excluded when we can no longer detect smelting activity over the long-term and they are announced as closed.
Earth-i monitors over 30 smelters that are not currently included in the SAVANT Copper indices. The machine learning techniques developed cannot always be applied to every smelter, due to complicated site characteristics. If our quality assurance process determines that it isn't possible to consistently determine a smelter's status with an adequate level of confidence, we will exclude it from the product. However, some smelters that are not in the indices still provide a reasonable amount of useful data and we include these in the "Trial Smelters" area of the SAVANT platform. As we continue to develop the tool and innovate new techniques, we will increase the number of smelters and the smelting capacity included in both the indices and the Trial Smelters area.
The smelters need to be precisely located so their status can be assessed using satellite data. Although smelter locations are well publicised in some countries, this can be complex in other countries where they may only be published to a regional level. Machine learning was initially applied to satellite imagery to help with this task, although all smelter locations have since been independently verified.
Copper smelters have several sub-regions within their perimeter, such as concentrate stocks, furnaces, slag tipping areas, yards where slag is left to cool, areas for cooling of copper cathodes, and loading areas from where copper cathodes are shipped by rail or road to refineries. Once the smelter is located, Earth-i map the smelter to determine the features that are important to determining the operational status of the smelter and to identify any features which might cause anomalies in the algorithms that determine activity.
The SAVANT data is current and additional information that can be aggregated with all the other information that customers use to make trading decisions. Analysis against other data sources enables customers to see correlations or signals that are useful to them. For example, see below for a plot of prompt and carry signals against the Global Copper Smelting Index, published by Dr. Guy Wolf of Marex Spectron in the SAVANT press release of 9 December 2019.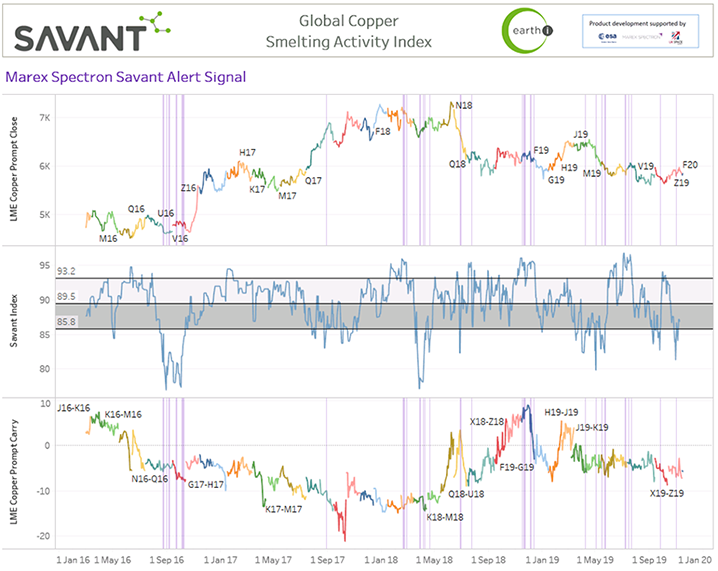 Users can sign on to access the SAVANT portal at https://savant.earthi.world. Initially they will be registered for the Free package. Users can subsequently subscribe to Business and Enterprise options – contact Earth-i at savant@earthi.space/ for pricing and ordering details. The subscription options are described below:
Free: The Free service gives access to the Global Index with a built-in two-week data delay. This is updated daily and historic data can be accessed via the calendar controls.
Business: The Business service provides the up-to-date global, regional and country indices. The regional indices can be compared against each other and consist of: China, Asia and Oceania (excluding China), Europe and Africa, North America, South America and "Global (excluding China)". The regional and country indices are the same as the global indices, except they only include smelters that are located in that region or country. Daily updates, API access and historic data back to early 2016 are provided for all indices.
Enterprise: The Enterprise service provides as above, but also includes individual smelter data for all smelters. A map showing the activity status of each smelter is provided, and plots and CSV downloads of inactive capacity and dispersion activity values can be seen for each smelter. This allows the user to analyse the activity history of individual smelters. KML files are also generated for each smelter site, which can be used with Google Earth for a visual representation of where activity is taking place within the site.
A further option is provided in the China region by our distributor, Shanghai Metals Market (SMM). The Free Global Index is provided on their website, and a subscription feed of the up-to-date Global Index and historic data can be purchased. See www.smm.cn or contact Earth-i for details.
We continue to develop and improve the SAVANT Copper product based on customer requests, and are currently working on an equivalent product for Nickel, which will be released later in 2020.