What Saudi Arabia is to oil, Brazil is to coffee. This agricultural powerhouse produces about a third of the world's coffee beans. It is hard to understate the impact that the Brazilian crop has each year on global supply and prices.
One of the reasons Brazil is so influential is that its coffee farms are so much more efficient and productive than most other producer nations. This is particularly so when comparing Brazilian production to that of Africa. In the birthplace of coffee, Ethiopia, average production is 8 bags of coffee beans per hectare, whereas in Brazil it is nearly three times that at 23 bags per hectare (Source: ICO 2016).
So not only is Brazil by far the largest producer, it is also much more efficient. Farm sizes are much larger than in Africa, and there are more large-scale plantations and estates. Mechanisation is much more prevalent, especially when it comes to harvest time. The combined effect of economies of scale and technology-led crop management practices has made Brazil the coffee industry powerhouse.
In contrast, in Africa production remains dominated by small holder farmers with an average field size of around 0.25 hectares, and a few hundred trees. In Kenya there are only around 3,000 coffee estates compared to 800,000 smallholder farmers. Mechanisation is rare, and most crop management work is conducted through human labour from smallholder farmers themselves and estate workers.
How then can Africa's coffee producers compete with the efficiencies achieved by their Brazilian counterparts?
The rapid aggregation of coffee farms in Africa into larger units to achieve economies of scale and apply mechanized production, seems a remote possibility. Whilst the number of larger estate farms will continue to grow, the likelihood is that the majority of Africa's coffee will continue to be produced by individual farmers on small plots of land. The dependence of rural communities on smallholder farming for employment and income is a significant barrier to such consolidation, and in any case, cooperative societies and unions are becoming increasingly effective as the aggregating force.
Structurally and economically at least, it seems that smallholder farming remains the way forward for Africa. This then begs the question as to how this system can be made more efficient and therefore more competitive. Sure, cooperative unions can become increasingly effective in giving farmers a voice and an influence in the market, and in government which may then shape policy and market access in the farmers favour. But this will not be enough on its own to safeguard the future of smallholder farmers.
At the AFCA Expo in Zanzibar in October last year the ACCORD team had an opportunity to meet with representatives of a range of coffee producers and farmer cooperatives from across Africa, including Tanzania, Uganda, Kenya and DRC. It was invigorating to hear their enthusiasm for innovation, and their appetite for the application of new technology and practices to address this issue of global competitiveness. Much interest was generated in the ACCORD solution which combines the sophistication of satellite data, localized weather forecasting and crop science, with the simplicity of SMS messaging to deliver farmer support.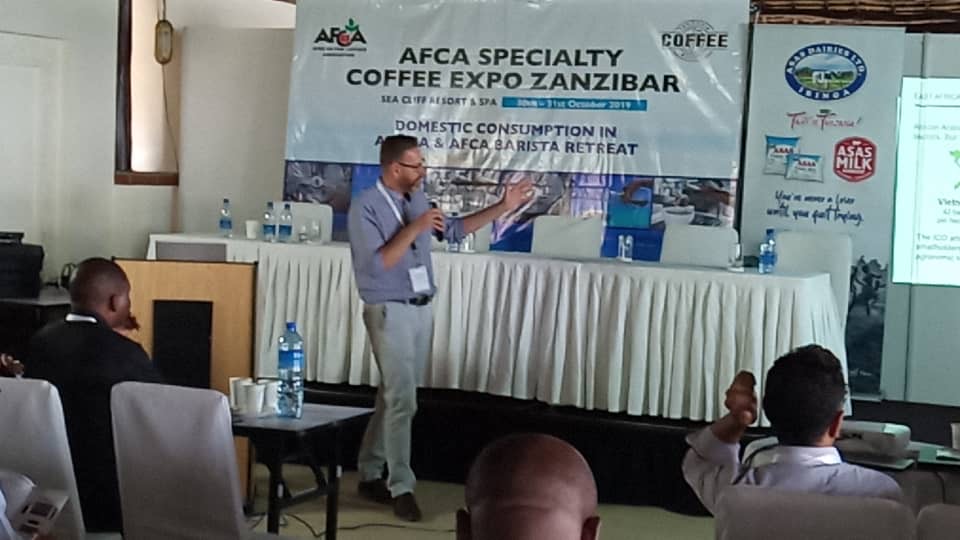 The ACCORD model is an excellent example of how advanced technology can be integrated into the traditional methods of smallholder farming to deliver significant increases in farm efficiency, and as a consequence higher crop yields and better economic outcomes.
It is also highly compatible with the delivery of farmer extension services via cooperative unions. Demand for the services and inputs smallholder farmers need, can be aggregated at the cooperative level, and services delivered as a bundle through the cooperative significantly reducing barriers to access for service and technology providers. When distributed across many thousands of individual farmers the price for this new technology is affordable and can be integrated into the package of benefits already delivered through the cooperative.
Whilst the technology and science behind the ACCORD programme is sophisticated and brings the power of agri-tech to smallholder farming, the programme is truly innovative in that it is highly compatible with the farmer cooperative system. Sophisticated technology can only be innovative if it is made accessible and affordable to the end-users and this is what the ACCORD programme has achieved for coffee farmers in Kenya and Rwanda.
It is through this approach to innovation that smallholder farming will be able to compete, across a range of crop types and commodity markets, with other producer nations that have competitive advantage through the economies of scale and the application of mechanization.
It is not the only answer, and other initiatives must play their part. For Africa's coffee farmers government regulation, policies and investment strategies must also be in their favour, and the proactive development of a domestic market for coffee consumption would ease the exposure to more efficient competitor producers in Latin America and Asia.
However, ACCORD is proving that technology and innovation is the way forward for smallholder farming as an agricultural system with a future, and that it can be made competitive as a sustainable food source for large parts of the World.
To find out more, please visit www.earthi.space/accord.