The global economic loss from natural and man-made disasters in 2017 totalled over $306 billion.
The conditions around certain legitimate insurance claims are often extremely difficult to substantiate from fraudulent ones. With the use of very high-resolution satellite data and remote sensing, insurance fraud can be much more easily identified, particularly on claims around crop insurance and property damage following a natural disaster.
After a natural disaster happens, the insurance industry often experiences a number of challenges in collecting accurate information to react speedily to claims. Unfortunately, information is often outdated, or claims managers and loss adjusters experience slow, delayed and costly inspections in addition to having limited access to the site after an incident is first reported. Speed and accuracy are of the essence, but the flow of information can often be neither of those things for insurers.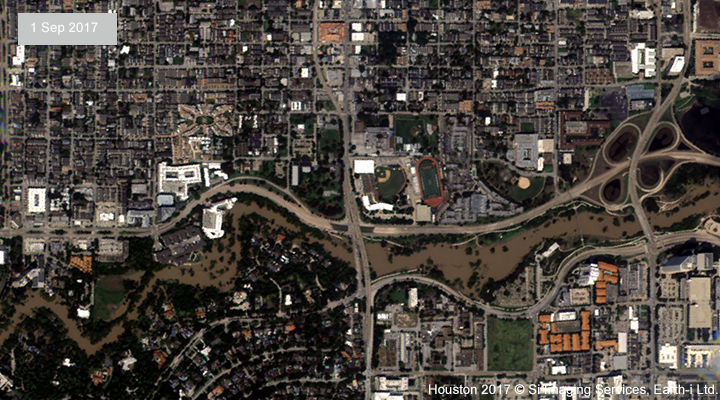 Use of satellites to support insurance claims
The global insurance industry needs an extremely large amount of information to support their risk assessments, planning, loss adjustments and claim validations. In emerging markets traditional insurance is often not feasible due to the lack of data to support policies.
Using satellite data to create a base map of information means companies can assess and manage risks such as floods and the impact of natural disasters to rapidly build 'catastrophe knowledge' when an event occurs. The less investment it takes to do this, the better for everyone.
While data availability is still a huge challenge within insurance products to support claims, technical advancements such as remote sensing and big data analytics promise greater feasibility. Satellite imagery alone will not produce the information that insurers need to make decisions, but it can certainly add another layer of information to help inform better decision making.
Earth-i's approach to solving challenges for clients pulls together different technologies into a very focused eco-system. Earth-i's spatial data fusion takes Earth Observation, remote sensing and geospatial information and fuses the data with a unique combination of other technologies to provide information that will help insurers develop more effective products or make more informed decisions.
These technologies can include GPS location data, forecast and actual weather data, artificial intelligence and machine learning. The opportunity for new disruptive products that utilise these technologies is huge, and by working with insurance companies Earth-i is creating market leading products to deliver more customisation and better outcomes for policy-holders.
For further information about insurance, call us on +44 333 433 0015 or alternatively email enquiries@earthi.space.co.uk