GLOBAL COPPER SMELTING INDEX INCREASES DURING APRIL TO 87.2 (+0.6 FROM MARCH)
20 May 2020 – The SAVANT Global Copper Smelting Index, a unique index launched in October 2019 by Earth-i and Marex Spectron, showed a small increase in global copper smelting activity from March to April. The sequential increase was unusual as April is typically the weakest month of the year and was primarily driven by a small recovery in Chinese activity.
Observations from April include:
• The April 2020 average was 87.2, in comparison to the levels of April 2018 (84.8) and April 2019 (85.0)
• The profile during the month was weakest at the start of the month with the Easter period seemingly being used for maintenance in most regions.
• Smelter activity in China recovered in the early part of April from the trough of late-March but plateaued at around the February levels thereafter. Since then, this month (May) has seen a material increase in Chinese smelter activity.
Dr Guy Wolf, Marex Spectron's Global Head of Analytics, commented: "The index generally sees the annual lows in April but the unique circumstances resulting from COVID-19 have meant that April was instead the first signs of recovery. Indications from the product data in May are that the pick-up in activity has accelerated, particularly in China."

Savant Index (Global) monthly averages Jan-2018 to Apr-2020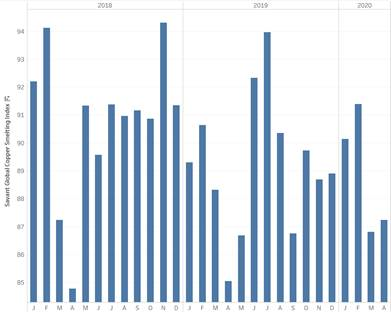 Source: SAVANT Global Copper Smelting Index
The SAVANT Global Copper Smelting Index monitors up to 90% of the smelting capacity for copper around the globe. Using daily updated sources, including extensive use of geospatial data collected from satellites, the index reports on the activities at the world's smelting plants offering subscribers unprecedented levels of coverage, accuracy and reliability. This dataset allows users to make better informed and more timely trading decisions.
To find out more please visit
www.earthi.space/savant
.
About Earth-i
Earth-i provides unique insights and analytics through Earth Observation. It utilises industry leading access to more than thirty multi-sensor / multi-resolution satellites and has developed advanced Artificial Intelligence and Machine Learning-led analytics to build on its satellite image processing expertise. Earth-i launched its own prototype Earth Observation satellite in 2018, collecting high definition colour videos from space.
About Marex Spectron Group Limited
Marex Spectron is a leading global commodities brokerage, with significant market share of many major Agricultural, Metal and Energy products. Headquartered in London, Marex Spectron's extensive international network covers Europe, Asia and North America markets.
State-of-the-art electronic and voice broking services facilitates all types of trading strategies. This is backed by decades of experience, with Marex Spectron placing great emphasis on intellectual knowledge and insight, alongside access to extensive data sets and the latest analytical tools. Its clients are commodity producers and consumers, banks, hedge funds, asset managers, brokers, commodity trading advisors and professional traders.