DESPITE CHINA SLOWDOWN, GLOBAL COPPER AND NICKEL UP IN AUGUST
China proving the outlier on power disruptions and weak demand
South America copper smelting back up to speed
Global nickel smelting boosted by Indonesia
August 2022 Copper observations include:
Global smelting activity rose in August as the return to operations of a number of plants in Europe & Africa and South America offset weakening activity in China, where an enduring heatwave across much of the country led provincial authorities to implement electricity saving measures. East and Northeast China were the worst affected regions, with the Dispersion Index for the former eroding from over 60 in the last week of July to close the month at only 48.1, as smelters in Anhui in particular were forced to curtail capacity after receiving orders to reduce their power consumption. In South America, Glencore's Altonorte and Codelco's Chuquicamata smelters were notable for their high levels of activity, while in the middle of the month the latter's Salvador plant also showed its first operational signature since April. Meanwhile in Africa, the ramp up of the Tsumeb plant in Namibia helped the Europe & Africa index to rise back to 46.2, its highest reading in seven months, even though the Lualaba smelter in the DRC remained closed for maintenance for much of the month. In Europe, the return of the Bor smelter in Serbia should be imminent, having been down for four and a half months as it undergoes an extensive upgrade.
Global Dispersion Index rose to 48.6, up from 46.5 in July
The China Dispersion Index fell for the third consecutive month to 47.8, its lowest level since February, despite the country's Inactive Capacity Index falling to 4.2 from 11.2 in July
The South American Dispersion Index recouped all of its losses from July when it fell to 37.7, recovering to 52.1 in August
Every region except North America recorded a decline in Inactive Capacity, with the global Index falling to 13.7 from 20.7 in July
August 2022 Nickel observations include:
The Global Dispersion Index rebounded strongly in August to 50.1 from a record low in July, mainly as a result of a sharp rise in Indonesian NPI activity. By contrast, NPI activity in China fell again as weakness in the real estate market continues to weigh on stainless steel demand and by derivation its raw material inputs. In addition two of the largest smelting complexes in the country are located in Shandong and Jiangsu, eastern provinces heavily impacted by the heatwave. Meanwhile elevated power prices in Europe continue to see plants in the region operating intermittently, while in South Africa the Polokwane smelter has now been inactive for over two months as it undergoes maintenance.
Global Dispersion Index rose to 50.1 from a record low of 37.8 in July
This was despite the NPI Dispersion Index in China falling for the third consecutive month to 44.1
Although the Europe and Africa Dispersion Index rose by 1.4 points to 27.0 it remains close to July's record low
Activity rose across metal grades with those for NPI and class 1 nickel breaching the 50 level denoting the average for the last two years at 53.3 and 52.7 respectively
Dr Guy Wolf, Marex's Global Head of Analytics, commented: "Power related disruptions are nothing new for the base metals industry – for example, operations in South Africa have had to contend with load shedding for many years. Nonetheless recent heat waves across the northern hemisphere provide a prescient reminder of the industry's reliance on this critical input that lies beyond their control, especially ahead of a winter that promises to impose further curtailments. Most immediately, the synchronised under performance of SAVANT China indices compared to the rest of the world highlights how poor demand conditions have been there for the last few months. We will be watching these closely for any improvement with our expectation for a good sequential uplift in the economy entering the last quarter."
Northeast and East China Regional Dispersion Indices, Jun 2022 – Present (weekly average)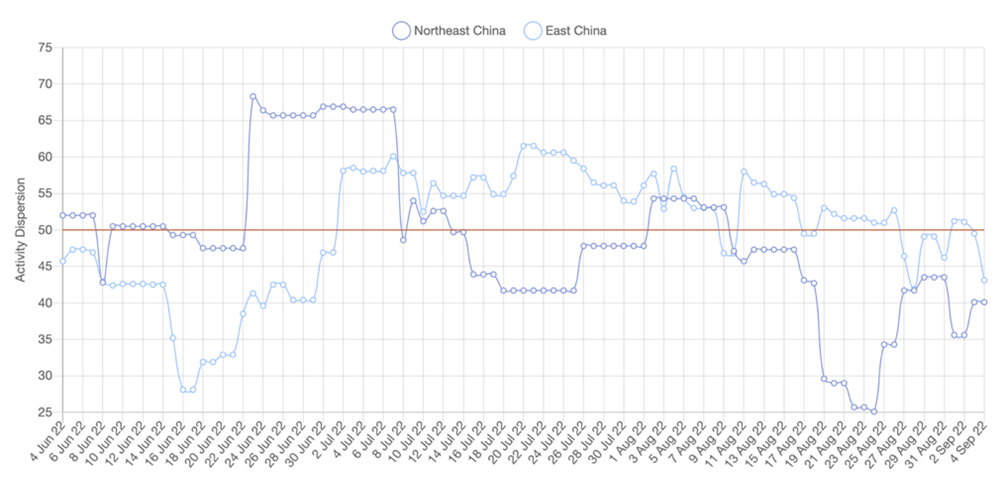 Nickel Dispersion Indices by Metal Grade, Mar 2022 – Present(weekly average)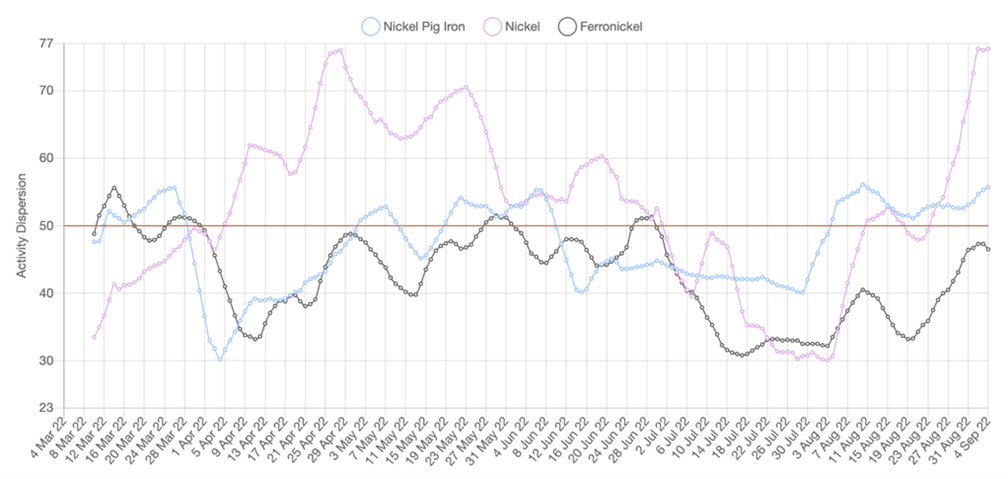 * – Index values go back to March 2016
The Activity Dispersion Index is a measure of capacity-weighted activity levels observed at smelter sites where a reading of 50 indicates that current activity levels are at average levels. Readings above or below 50 indicate greater or lesser activity levels than average, respectively. The above chart displays these readings as a weekly rolling average.
The Inactive Capacity Index is derived from binary observations of a smelter's operational status as being either active or inactive. The capacity weighted global and regional indices show the percentage of smelter capacity that is inactive, with readings displayed in the chart below as a weekly rolling average. A reading of zero would indicate 100% smelting capacity.
The SAVANT platform monitors up to 90% of Copper and 96% of Nickel smelting capacity around the globe. Using daily updated sources, including extensive use of geospatial data collected from satellites, the index reports on the activities at the world's smelting plants offering subscribers unprecedented levels of coverage, accuracy and reliability. This dataset allows users to make better informed and more timely trading decisions.
To find out more please visit SAVANT, or sign-up for the Free SAVANT service.
About Earth-i
Earth-i is a geospatial intelligence company using machine learning, artificial intelligence and Earth Observation data to provide unique and relevant insights, derived from diverse geospatial data, that deliver clear decision advantage for businesses, governments and other organisations.
Earth-i provides advanced analytics using automated interpretation of a range of geospatial Earth Observation data sources including colour imagery, colour video, infra-red and radar from a range of sources including satellite, drone, aerial and ground-based sensors. This data is fused with additional data sources to extract factual understanding and generate predictive insights across a range of markets such as commodities, supply chain, agriculture, infrastructure and defence.
For more information visit:
To find out more please visit www.earthi.space.
For more information about this press release, please contact: info@earthi.co.uk
About Marex
Marex is a diversified global financial services platform, providing essential liquidity, market access and infrastructure services to clients in the energy, commodities and financial markets.
The Group provides comprehensive breadth and depth of coverage across five core services: Market Making, Execution and Clearing, Hedging and Investment Solutions, Price Discovery and Data & Advisory. It has a leading franchise in many major metals, energy and agricultural products, executing around 38 million trades and clearing over 193 million contracts in 2021. The Group provides access to the world's major commodity markets, covering a broad range of clients that include some of the largest commodity producers, consumers and traders, banks, hedge funds and asset managers.
Marex was established in 2005 but through its subsidiaries can trace its roots in the commodity markets back almost 100 years. Headquartered in London with 22 offices worldwide, the Group has over 1,100 employees across Europe, Asia and America.
For more information visit www.marex.com.