7th July 2022 – UK-based space data analytics company Earth-i is delighted to announce that its artificial intelligence (AI) software developed to recognise, identify, and classify Russian military aircraft has been successfully integrated into Systematic's market leading SitaWare C4ISR Suite.
The integration allows users of SitaWare to receive and display Common Operational Picture data from satellites relating to the movement of Russian Aircraft across multiple areas of interest (AOIs) in near real time and compare it to historic observations of the AOI, thus providing automatic alerts and actionable intelligence without the need for separate human analysis.
The capability to recognise aircraft types can also be combined with other data from multiple different space-based sensors such as synthetic aperture radar (SAR), Infrared (IR), as well as medium and lower resolution optical data to provide actionable intelligence regarding the AOI with the highest possible revisit rate.
Earth-i's software and automated processes can also be trained to recognise and classify other aircraft types, ships, land vehicles, installations, and infrastructure using commercial or sovereign satellite data sources.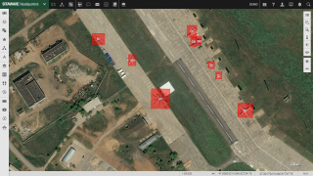 Earth-i AI driven Remote Sensing Analytics integrated into SitaWare C4ISR Suite
Charles Davis, CEO Earth-i added
"Integration of our capability into Systematic's trusted and widely used C4ISR system is a major step forward for Earth-i and underlines the effectiveness of the low cost, innovative approach to providing timely, useful information to our customers. We are particularly excited about the expansion of the capability to asset classes other than aircraft and the opportunity to supply bespoke, use case driven data analytics capability through the SitaWare platform."
Rune Raunow, Systematic's Vice President Business Development, Nordic added
"The integration of Earth-i's Geospatial Intelligence into SitaWare's military Situational Awareness provides the SitaWare user community with an easy to implement, powerful, and cost-efficient option for automated surveillance of military airplane activity from their preferred mix of classified and unclassified sources".
About Earth-i
Earth-i is a geospatial intelligence company using machine learning, artificial intelligence and Earth Observation data to provide unique and relevant insights, derived from diverse geospatial data, that deliver clear decision advantage for businesses, governments and other organisations.
Earth-i provides advanced analytics using automated interpretation of a range of geospatial Earth Observation data sources including colour imagery, colour video, infra-red and radar from a range of sources including satellite, drone, aerial and ground-based sensors. This data is fused with additional data sources to extract factual understanding and generate predictive insights across a range of markets such as commodities, supply chain, agriculture, infrastructure and defence.
Earth-i and Systematic will be present on the UK Space Agency stand at the Farnborough Air Show and we'd be delighted to discuss how the above capability could be used to meet your requirements.
For more information visit:
To find out more please visit www.earthi.space.
For more information about this press release, please contact: info@earthi.co.uk
About Systematic
Established in 1985, Systematic A/S develops software and system solutions to customers in both the public and private sector. A common feature of these customers is a need to integrate, compare and analyse large volumes of complex data, and to generate an overview that allows decision-making based on a solid foundation, often in critical situations.
Systematic's SitaWare Suite consists of three different systems, providing critical C4ISR capabilities from the headquarters level down to the deployed troop commander. SitaWare Edge is designed for a dismounted commander using an Android device, SitaWare Frontline is designed for the vehicle-mounted commander, and SitaWare Headquarters supports headquarters-level units. The suite has also been developed for use aboard naval vessels, and in support of airborne C4ISR missions.
Today, Systematic is the largest privately owned software company in Denmark, with solutions sold to customers in 50+ countries. More than 1 million people worldwide use Systematic solutions and services every day.
For more information visit: