Global Copper and Nickel Smelting Activities decline in June
GLOBAL COPPER AND NICKEL SMELTING ACTIVITIES DECLINE IN JUNE
Evidence of global demand destruction
All eyes on Chile on environmental concerns
China nickel activities remain firm
05 July 2022 – SAVANT, the unique geo-spatial analytics product launched in October 2019 by Earth-i and Marex, covers global smelting activity for both Copper and Nickel.
Sign-up here for a demonstration of the SAVANT service.
June 2022 Copper observations include:
Global smelting activity fell back in June to 46.7 and has now been below the two-year average since January. Indeed, all regions are now below 50 as the China Index fell 5.2 points to 49.3 and the South American Index fell from 51.5 to 49.0. For the latter, activity fell dramatically from 58.1 on June 12th to finish the month at only 29.7 as Codelco was forced to halt production at its Las Ventanas smelter following an incident that triggered an environmental emergency on 6 June. SAVANT observations show that the smelter remains closed as corrective measures ordered by Chile's environmental regulator are undertaken, while simultaneously indicating that the state owned company's other smelters at Chuquicamata, El Teniente and Salvador are all running below full capacity. In other regions, while SAVANT has observed the return of the European smelters at Huelva and Hamburg from 10 June and 28 June respectively, one large Asian smelter has been noted as being inactive since early June, despite there being no announcement of planned maintenance.
Global Dispersion Index fell to 46.7, down from 49.4 in May
Of the regions the China Dispersion Index is still the highest, despite falling 5.2 points to 49.3, while Europe & Africa remains the lowest, although rising from 37.3 in May to 42.1 in June
The South American Dispersion Index finished the month at only 29.7 following a stoppage at the Las Ventanas smelter on June 6th
The Global Inactive Capacity Index has now registered 3 consecutive months above 20% for the first time in 5 years
Both Europe & Africa and North America recorded Inactive Capacity readings above 30, while that for Asia & Oceania rose by 4.1 points to 26.5
June 2022 Nickel observations include:
The Global Dispersion Index fell by 4 points to 49.0 in June. This was despite SAVANT observations indicating that activity in Asia & Oceania remains strong with a second consecutive reading above 70, as well as increased capacity utilisation at the ferronickel plant at Drenas, Kosovo which will change ownership from NewCo Ferronikeli to a subsidiary of Turkish conglomerate Yildirim Group. Additionally, we observed continued strength in NPI smelting activity in China which averaged 53.9 for the month. Declining activity at class 1 producers was the main cause of broader weakness, with periods of inactivity notable at the Jinchuan smelter in Gansu province, Polokwane in South Africa – which is being rebuilt this quarter – and Sudbury in Canada.
Global Dispersion Index fell back to 49.0, from 53.0 in May
NPI Dispersion Index in China registered its second consecutive month above the average of 50, for the first time in 11 months
Europe & Africa Dispersion Index averaged 37.8 for June so that the region has not yet registered a reading above the average of 50 in 2022
The Activity Dispersion Indices for all metal grades fell in June and although that for class 1 nickel remains above average at 55.2, this obfuscates a large increase in the Inactive Capacity Index which finished the month at 42.4
Dr Guy Wolf, Marex's Global Head of Analytics, commented: "SAVANT observations present growing evidence of demand destruction in industrial metals. The first six months of 2022 has been a weak period for copper smelting activity but global stocks of metal have been stable in recent weeks so that we believe regional premia may now have reached their short term peak. But maybe of greater consequence for the industry will be developments in Chile where tightening environmental regulations have been pressuring smelting output for a number of years, which may now be in an accelerating decline.".
South American Activity Dispersion Index, May 2022 – Present (weekly average)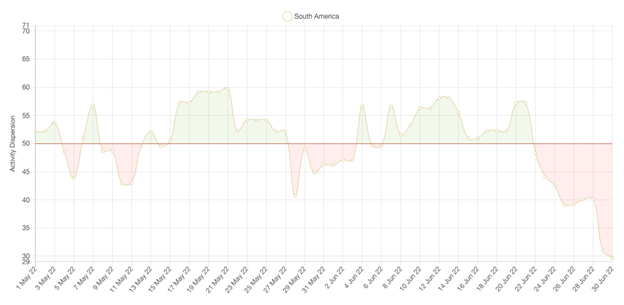 Class 1 Nickel Inactive Capacity Index, Apr 2022 – Present (weekly average)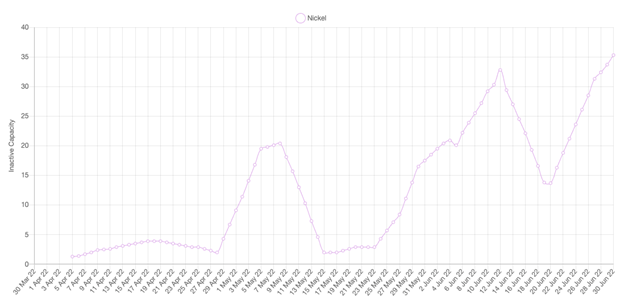 * – Index values go back to March 2016
The Activity Dispersion Index is a measure of capacity-weighted activity levels observed at smelter sites where a reading of 50 indicates that current activity levels are at average levels. Readings above or below 50 indicate greater or lesser activity levels than average, respectively. The above chart displays these readings as a weekly rolling average.
The Inactive Capacity Index is derived from binary observations of a smelter's operational status as being either active or inactive. The capacity weighted global and regional indices show the percentage of smelter capacity that is inactive, with readings displayed in the chart below as a weekly rolling average. A reading of zero would indicate 100% smelting capacity.
The SAVANT platform monitors up to 90% of Copper and 96% of Nickel smelting capacity around the globe. Using daily updated sources, including extensive use of geospatial data collected from satellites, the index reports on the activities at the world's smelting plants offering subscribers unprecedented levels of coverage, accuracy and reliability. This dataset allows users to make better informed and more timely trading decisions.
To find out more please visit SAVANT, or sign-up for the Free SAVANT service.
About Earth-i
Earth-i is a geospatial intelligence company using machine learning, artificial intelligence and Earth Observation data to provide unique and relevant insights, derived from diverse geospatial data, that deliver clear decision advantage for businesses, governments and other organisations.
Earth-i provides advanced analytics using automated interpretation of a range of geospatial Earth Observation data sources including colour imagery, colour video, infra-red and radar from a range of sources including satellite, drone, aerial and ground-based sensors. This data is fused with additional data sources to extract factual understanding and generate predictive insights across a range of markets such as commodities, supply chain, agriculture, infrastructure and defence.
For more information visit:
To find out more please visit www.earthi.space.
For more information about this press release, please contact: info@earthi.co.uk
About Marex
Marex is a diversified global financial services platform, providing essential liquidity, market access and infrastructure services to clients in the energy, commodities and financial markets.
The Group provides comprehensive breadth and depth of coverage across five core services: Market Making, Execution and Clearing, Hedging and Investment Solutions, Price Discovery and Data & Advisory. It has a leading franchise in many major metals, energy and agricultural products, executing around 38 million trades and clearing over 193 million contracts in 2021. The Group provides access to the world's major commodity markets, covering a broad range of clients that include some of the largest commodity producers, consumers and traders, banks, hedge funds and asset managers.
Marex was established in 2005 but through its subsidiaries can trace its roots in the commodity markets back almost 100 years. Headquartered in London with 22 offices worldwide, the Group has over 1,100 employees across Europe, Asia and America.
For more information visit www.marex.com.