GLOBAL COPPER SMELTING AT 13 MONTH HIGH, GLOBAL NICKEL SMELTING FALLS BACK BELOW 50
03 February 2022 – SAVANT, the unique geo-spatial analytics product launched in October 2019 by Earth-i and Marex, covers global smelting activity for both Copper and Nickel.
Sign-up here for the Free SAVANT service.
January 2022 Copper observations include:
Global smelting activity rose to a 13 month high in January with Asia & Oceania, South America, China and Europe & Africa regional dispersion indices up an average of 5.9 points, and only North America down for the month. China activity rose by 4.8 points to 58.4, the highest monthly average since May 2020 and although only a handful of deals for concentrates were reported in the spot market, smelters are believed to be sitting on ample stocks for processing, accumulated in advance of emerging logistics bottlenecks with the rising number of Omicron cases. Furthermore, these operations now appear to be ramping up production ahead of the spring peak in construction demand, in contrast to other more energy-intensive metal and alloy producers. Of the 94 smelters monitored globally by SAVANT geospatial intelligence, only a dozen were observed as inactive by the end of the month, despite recently patchiness at several smelters in the Far East. Most notably, activity has been detected since the middle of January at BHP's Olympic Dam smelter following the completion of an almost four month planned maintenance shutdown.
Global Dispersion Index rose to 55.1, up from December's 51.6
China Dispersion Index rose to 58.4, the highest monthly average since May 2020 when it recorded 60.6
Global Inactive Capacity Index fell to 9.7, the lowest reading since February 2018
All regions except for North America saw rising activity levels as South America recorded the biggest gain, gaining 11.5 points to 48.4
January 2022 Nickel observations include:
Although the NPI Dispersion Index in China only fell 2.5 points MoM in January, this belies the situation at the end of the month whereby 10 of the 18 plants located in and around Beijing were observed as inactive. Closures for Chinese New Year look to have been compounded by restrictions implemented ahead of the Winter Olympics. While the NPI Dispersion Index in Indonesia was steady at 55.3, this continues a surprisingly muted performance over recent months given lofty expectations following capacity additions.
Global Dispersion Index fell back to 49.5, from 50.7 in December
NPI Dispersion Index in China fell to 43.6 from 46.1 in December. Restrictions ahead of the Winter Olympics look to be responsible for a large number of plants registering as inactive by the end of the month
Meanwhile the NPI Dispersion Index in Indonesia was steady at 55.3, down marginally from 55.5 in December
Europe & Africa Inactive Capacity Index jumped 6.7 points to 22.9 following the stoppage at Harjavalta after a slag explosion on December 24
Activity Dispersion in the Americas registered an all-time high of 74.3, a major turnaround from only 25.1 in September 2021 when both Sudbury smelters were offline
* – Index values go back to March 2016
Dr Guy Wolf, Marex's Global Head of Analytics, commented: "The strong start to the year in the SAVANT measures of copper smelting activity corroborate our own observations from the physical markets, which is an industry supply chain that is ramping up to meet strong downstream demand. Simultaneously, our Nanolytics data indicates that a bearish macro picture has kept speculative positioning neutral, potentially providing some dry powder for another tilt at the $10,000/t level. We will be keeping a very close eye on the SAVANT China data this week – if we don't see the usual drop off in activity over the holidays this could be the catalyst for a move higher."

Global Inactive Capacity Index January 2018 – Present (weekly average)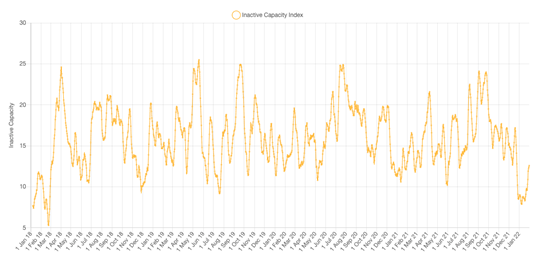 Americas Nickel Activity Dispersion Index over the last year (weekly average)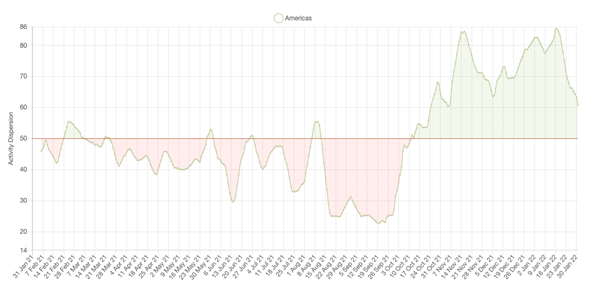 Source: SAVANT Global Copper Smelting Index
The
Activity Dispersion Index
is a measure of capacity-weighted activity levels observed at smelter sites where a reading of 50 indicates that current activity levels are at average levels. Readings above or below 50 indicate greater or lesser activity levels than average, respectively. The above chart displays these readings as a weekly rolling average.
The
Inactive Capacity Index
is derived from binary observations of a smelter's operational status as being either active or inactive. The capacity weighted global and regional indices show the percentage of smelter capacity that is inactive, with readings displayed in the chart below as a weekly rolling average. A reading of zero would indicate 100% smelting capacity.
The SAVANT platform monitors up to 90% of Copper and 96% of Nickel smelting capacity around the globe. Using daily updated sources, including extensive use of geospatial data collected from satellites, the index reports on the activities at the world's smelting plants offering subscribers unprecedented levels of coverage, accuracy and reliability. This dataset allows users to make better informed and more timely trading decisions.
To find out more please visit
SAVANT
, or sign-up for the
Free SAVANT service
.
About Earth-i
Earth-i is a geospatial intelligence company using machine learning, artificial intelligence and Earth Observation data to provide unique and relevant insights, derived from diverse geospatial data, that deliver clear decision advantage for businesses, governments and other organisations.
Earth-i provides advanced analytics using automated interpretation of a range of geospatial Earth Observation data sources including colour imagery, colour video, infra-red and radar from a range of sources including satellite, drone, aerial and ground-based sensors. This data is fused with additional data sources to extract factual understanding and generate predictive insights across a range of markets such as commodities, supply chain, agriculture, infrastructure and defence.
For more information visit:
To find out more please visit www.earthi.space.
For more information about this press release, please contact: info@earthi.co.uk
About Marex
Marex is a technology-enabled provider of essential liquidity and associated market infrastructure to participants in global energy, metals, agricultural and financial markets.
The Group provides comprehensive breadth and depth of coverage across four core services: Market Making, Commercial Hedging (both on exchange execution and clearing, and OTC derivatives), Price Discovery and Data & Advisory. It has a leading franchise in many major metals, energy and agricultural products, executing around 35 million trades and clearing over 175 million contracts in 2020. The Group provides access to the world's major commodity markets, covering a broad range of clients that include some of the largest commodity producers, consumers and traders, banks, hedge funds and asset managers.
Marex was established in 2005 but traces its roots in the commodity markets back almost 100 years. Headquartered in London with 19 offices worldwide, the Group has approximately 1,000 employees across Europe, Asia and America.
For more information visit www.marex.com.