Global copper smelting increases in October with contrasting trends in Nickel and Copper in China
02 November 2021 – SAVANT, the unique geo-spatial analytics product launched in October 2019 by Earth-i and Marex, covers global smelting activity for both Copper and Nickel.
Sign-up here for the Free SAVANT service.
October 2021 Copper observations include:
Copper smelting activity rose in October for the third month in a row, primarily due to gains in China, Europe & Africa and North America, even if the latter remains well below average. Following seasonal maintenance in the third quarter, smelters in China have since displayed above average levels of collective activity. As much of the energy needed for the transformation of concentrates to metal comes from the exothermic reaction of burning contained sulphur in the furnace, copper smelting is less reliant than other processes on an external source of energy. Smelters have therefore been relatively insulated from power restrictions affecting the rest of the industrial complex. However towards the end of the month we did start to see indications that reduced acid demand downstream is beginning to impact operating rates, with some smelters thought to be reining in metal production to preserve storage capacity of this by-product.
Global Dispersion Index averaged 52.2, up from September's 49.3
Europe & Africa Dispersion Index rose to 65.2 in October, helped by resumptions at Pirdop in Bulgaria and Harjavalta in Finland
The Inactive Capacity Indices fell in all regions, save for a very slight uptick in Asia & Oceania
October 2021 Nickel observations include:
Further to government mandated cutbacks, the China NPI Dispersion Index fell back to historic lows of only 21.1 on 8 and 9 October, in line with expectations that production will be almost a third lower than the same month a year ago. However in the last week of the month we have seen a pick-up in activity, coinciding with retreating coke and hard coking coal onshore futures.
Global Dispersion Index rebounded in October to a monthly average of 46.0 from 41.1 in September
This was despite the NPI Dispersion Index in China falling for the fourth month in a row to 33.0 in October, now almost only half of July's reading
The Americas Dispersion Index rebounded to an average of 55.6 for October as both Sudbury smelters restarted, the first month in 2021 to register a reading above 50
* – Index values go back to March 2016
Dr Guy Wolf, Marex's Global Head of Analytics, commented: "The contrasting trends between copper and nickel smelting activity in China shows how resilient – or vulnerable – each supply chain can be to exogenous shocks. With expectations of future industrial activity being parred back by many analysts as the global economy looks to be normalising to its pre-pandemic trajectory, the reciprocity between industry specific factors and broader macro influences will be fascinating to watch from here."

Global Copper Activity Dispersion Index over last 12 months (weekly average)
Regional Nickel Activity Dispersion Index for the Americas over last 12 months (weekly average)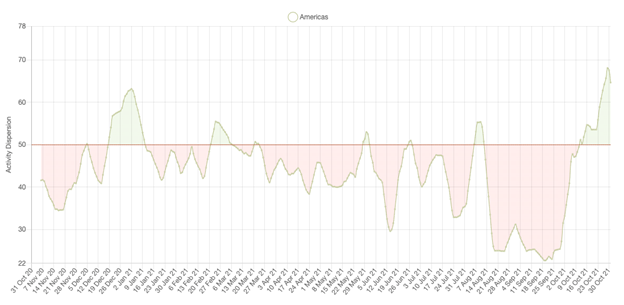 Source: SAVANT Global Copper Smelting Index
The
Activity Dispersion Index
is a measure of capacity-weighted activity levels observed at smelter sites where a reading of 50 indicates that current activity levels are at average levels. Readings above or below 50 indicate greater or lesser activity levels than average, respectively. The above chart displays these readings as a weekly rolling average.
The
Inactive Capacity Index
is derived from binary observations of a smelter's operational status as being either active or inactive. The capacity weighted global and regional indices show the percentage of smelter capacity that is inactive, with readings displayed in the chart below as a weekly rolling average. A reading of zero would indicate 100% smelting capacity.
The SAVANT platform monitors up to 90% of Copper and 96% of Nickel smelting capacity around the globe. Using daily updated sources, including extensive use of geospatial data collected from satellites, the index reports on the activities at the world's smelting plants offering subscribers unprecedented levels of coverage, accuracy and reliability. This dataset allows users to make better informed and more timely trading decisions.
To find out more please visit
SAVANT
, or sign-up for the
Free SAVANT service
.
About Earth-i
Earth-i is a geospatial intelligence company using machine learning, artificial intelligence and Earth Observation data to provide unique and relevant insights, derived from diverse geospatial data, that deliver clear decision advantage for businesses, governments and other organisations.
Earth-i provides advanced analytics using automated interpretation of a range of geospatial Earth Observation data sources including colour imagery, colour video, infra-red and radar from a range of sources including satellite, drone, aerial and ground-based sensors. This data is fused with additional data sources to extract factual understanding and generate predictive insights across a range of markets such as commodities, supply chain, agriculture, infrastructure and defence.
For more information visit:
To find out more please visit www.earthi.space.
For more information about this press release, please contact: info@earthi.co.uk
About Marex
Marex is a technology-enabled provider of essential liquidity and associated market infrastructure to participants in global energy, metals, agricultural and financial markets.
The Group provides comprehensive breadth and depth of coverage across four core services: Market Making, Commercial Hedging (both on exchange execution and clearing, and OTC derivatives), Price Discovery and Data & Advisory. It has a leading franchise in many major metals, energy and agricultural products, executing around 35 million trades and clearing over 175 million contracts in 2020. The Group provides access to the world's major commodity markets, covering a broad range of clients that include some of the largest commodity producers, consumers and traders, banks, hedge funds and asset managers.
Marex was established in 2005 but traces its roots in the commodity markets back almost 100 years. Headquartered in London with 19 offices worldwide, the Group has approximately 1,000 employees across Europe, Asia and America.
For more information visit www.marex.com.