Global Copper and Nickel Smelting Increases while Europe Decreases
05 April 2022 – SAVANT, the unique geo-spatial analytics product launched in October 2019 by Earth-i and Marex, covers global smelting activity for both Copper and Nickel.
Sign-up here for the Free SAVANT service.
March 2022 Copper observations include:
Global smelting activity rose in March as all of the regional Dispersion Indices climbed, except for Europe & Africa where activity registered its lowest reading since April 2021 at 39.4. Of note was the rise in Asia & Oceania as operational issues at a couple of the Japanese smelters appear to have been resolved, but the story of the month was undoubtedly the bankruptcy of the 400ktpa Xiangguang smelter, whose owners informed the market on March 25th that they had breached debt covenants after their bankers had previously moved to cut loans. SAVANT had already flagged the smelter as inactive from March 17th. Despite COVID-19 related lockdowns in Eastern Chinese cities we have yet to see a drop in local operating activity, although falls in activity in the Northeast region may indicate a precedent.
Global Dispersion Index rose to 47.9, up from 46.3 in February
Although the China Dispersion Index recovered to 48.5 from 47.4 in February smelting activity remains below average, in part due to the bankruptcy of one of the country's largest smelters in Shandong Province
This saw the China Inactive Capacity Index jump from 1.6 in February to 8.7 in March, although it still remains the lowest reading of all of the major regions
Only in Asia & Oceania and in South America are the Dispersion Indices above their averages, at 53.5 and 54.2 respectively
March 2022 Nickel observations include:
Global smelting activity increased in March as the war in Ukraine has had little direct impact on overall production. Smelting in the region is split between the 22ktpa Pobuzhskiy ferronickel smelter and Nornickel's 200ktpa Nadezhda Metallurgical Plant, so that while SAVANT has picked up disruptions to activity at the former, production in Russia has continued unhindered. However distortions to trade flows are likely as more governments place sanctions and increase duties on imports of Russian metal. In China, activity ramped up to meet burgeoning stainless steel demand, although data towards the end of the month shows that a number of large NPI smelters are now closed again for the Qingming Festival.
Global Dispersion Index rose to 47.3, from 41.6 in February
NPI Dispersion Index in China surged to 55.4 in March from 37.8 in February as plants resumed following the Winter Olympics, before falling back to 25.4 on March 30th
Dispersion Indices in all other regions rose except for Europe & Africa where the regional index fell back to 39.8, a decline of 6.5 points from February
Dr Guy Wolf, Marex's Global Head of Analytics, commented: "The Xiangguang outage that has loosened the concentrate market is now set to be compounded by a relatively large number of maintenance stoppages. Any more unforeseen issues could propel TC/RCs close to triple figures and also pressure the refined market, where inventories onshore are declining from a seasonally low base, as exports to the international market are incentivised by the large negative arbitrage. Add to this the likelihood of disrupted flows of cathodes – both copper and nickel – to the European market from Russia and you have the potential for more tightness, although this could be alleviated if China experiences significant demand destruction from a protracted downturn in economic activity should lockdowns become more widespread".

China Northeast Region Copper Dispersion Index, Sep 2021 – Present (weekly average)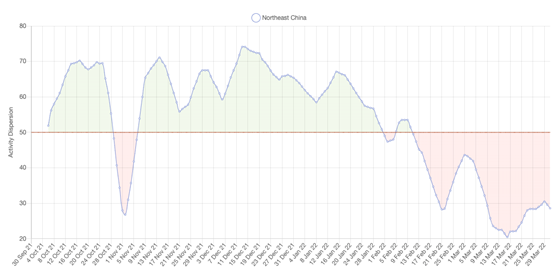 Northeast China Nickel Smelting Activity Map, April 4th 2022 (yellow = active, blue = inactive)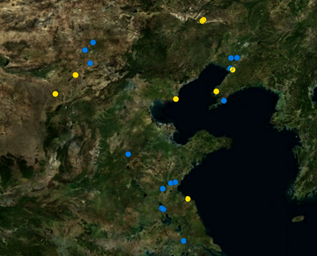 Source: Bing MAPS © 2022 Microsoft Corporation, Earthstar Geographics SIO
* – Index values go back to March 2016
The Activity Dispersion Index is a measure of capacity-weighted activity levels observed at smelter sites where a reading of 50 indicates that current activity levels are at average levels. Readings above or below 50 indicate greater or lesser activity levels than average, respectively. The above chart displays these readings as a weekly rolling average.
The Inactive Capacity Index is derived from binary observations of a smelter's operational status as being either active or inactive. The capacity weighted global and regional indices show the percentage of smelter capacity that is inactive, with readings displayed in the chart below as a weekly rolling average. A reading of zero would indicate 100% smelting capacity.
The SAVANT platform monitors up to 90% of Copper and 96% of Nickel smelting capacity around the globe. Using daily updated sources, including extensive use of geospatial data collected from satellites, the index reports on the activities at the world's smelting plants offering subscribers unprecedented levels of coverage, accuracy and reliability. This dataset allows users to make better informed and more timely trading decisions.
To find out more please visit SAVANT, or sign-up for the Free SAVANT service.
About Earth-i
Earth-i is a geospatial intelligence company using machine learning, artificial intelligence and Earth Observation data to provide unique and relevant insights, derived from diverse geospatial data, that deliver clear decision advantage for businesses, governments and other organisations.
Earth-i provides advanced analytics using automated interpretation of a range of geospatial Earth Observation data sources including colour imagery, colour video, infra-red and radar from a range of sources including satellite, drone, aerial and ground-based sensors. This data is fused with additional data sources to extract factual understanding and generate predictive insights across a range of markets such as commodities, supply chain, agriculture, infrastructure and defence.
For more information visit:
To find out more please visit www.earthi.space.
For more information about this press release, please contact: info@earthi.co.uk
About Marex
Marex is a technology-enabled provider of essential liquidity and associated market infrastructure to participants in global energy, metals, agricultural and financial markets.
The Group provides comprehensive breadth and depth of coverage across four core services: Market Making, Commercial Hedging (both on exchange execution and clearing, and OTC derivatives), Price Discovery and Data & Advisory. It has a leading franchise in many major metals, energy and agricultural products, executing around 35 million trades and clearing over 175 million contracts in 2020. The Group provides access to the world's major commodity markets, covering a broad range of clients that include some of the largest commodity producers, consumers and traders, banks, hedge funds and asset managers.
Marex was established in 2005 but traces its roots in the commodity markets back almost 100 years. Headquartered in London with 19 offices worldwide, the Group has approximately 1,000 employees across Europe, Asia and America.
For more information visit www.marex.com.