GLOBAL COPPER SMELTING ACTIVITY DISPERSION INDEX INCREASES DURING JUNE TO 50.7 (+0.1 FROM MAY)
14th July 2020 – The SAVANT platform, a unique geo-spatial analytics product launched in October 2019 by Earth-i and Marex Spectron, showed a small increase in global copper smelting activity from the previous month. The sequential increase occurred despite an increased number of maintenance outages and a reduction in Chinese activity.
Observations from June include:
June 2020 activity levels saw a decline in comparison to the levels of June 2019 (51.9).
Whilst China saw a small sequential decline (from 54.6 to 53.9), overall activity remained well above the recent lows of 43.7 in Dec 2019. This occurred despite a record amount of inactive capacity for China observed during the month. This was due to significant increases in activity being observed at several large sites in China which offset the high number of shut-downs.
North America, which also saw a record amount of inactive capacity during the month, conversely recorded the lowest activity readings seen in the history of the product. Sequentially however, the decline from May was marginal.
Other regions saw increases in activity, but the recovery was far more robust in Asia (ex-China), Oceania and South America whereas Europe & Africa remained at below average levels despite the increase.
Dr Guy Wolf, Marex Spectron's Global Head of Analytics, commented: "The recent R&D enhancements to the product have enabled us to extract even more granular insight from the technology and the latest results are fascinating. It seems clear that operating margins are being pressured by rising input prices in China which is forcing some smelters out of the market. But at the same time, we are seeing aggressive increases in activity at some of the larger operators which suggests demand remains robust in China. This bifurcation of the market is very unusual with some sties operating at full capacity whilst others cease production due to margin pressure. Prices will have to increase further to allow capacity back into the market.
The pandemic has led to unprecedented regional variation in the readings. Whilst Asia looks to be well into a robust recovery phase, Europe & North America have only recently seen the lows in activity levels. But the direction firmly appears to have turned globally."

China activity dispersion index since July 2019 (weekly average)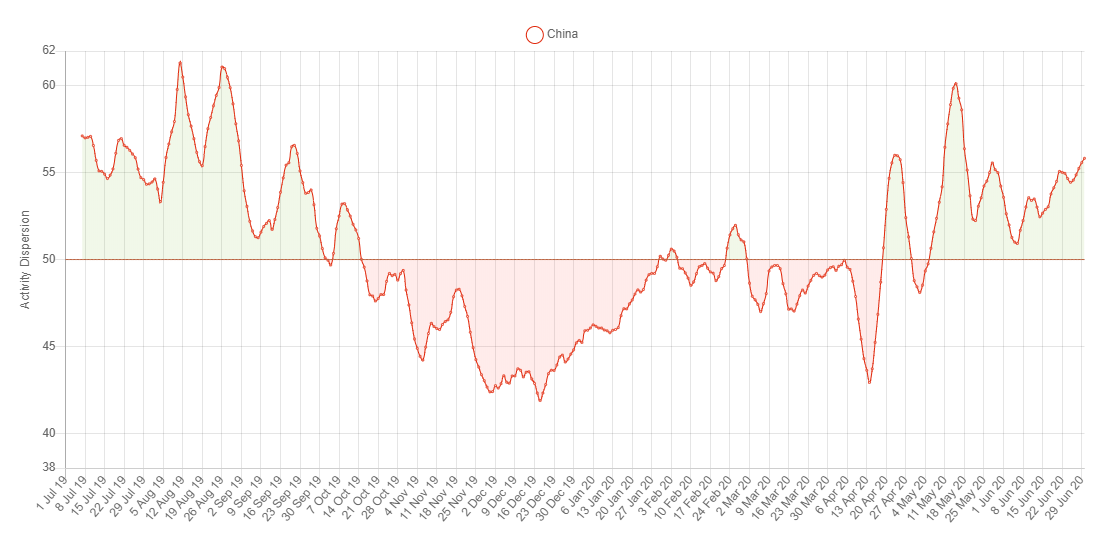 />
Source: SAVANT Global Copper Smelting Index
The Activity Dispersion Index is a measure of capacity-weighted activity levels observed at smelter sites where a reading of 50 indicates that current activity levels are at average levels. Readings above or below 50 indicate greater or lesser activity levels than average, respectively. The above chart displays these readings as a weekly rolling average.
The SAVANT Copper platform monitors up to 90% of the smelting capacity for copper around the globe. Using daily updated sources, including extensive use of geo-spatial data collected from satellites, the index reports on the activities at the world's smelting plants offering subscribers unprecedented levels of coverage, accuracy and reliability. This dataset allows users to make better informed and more timely trading decisions.
To find out more please visit
www.earthi.space/savant
.
About Earth-i
Earth-i is an innovative British Geospatial Information provider fusing multi-operator, multi-resolution, multi-sensor Earth Observation (EO) data including satellite video coupled with advanced analytics and geospatial experts to provide near-real time actionable insights.
To find out more please visit
www.earthi.space
.
For more information about this press release, please contact:
info@earthi.space.co.uk
About Marex Spectron Group Limited
Marex Spectron is a leading global commodities brokerage, with significant market share of many major Agricultural, Metal and Energy products. Headquartered in London, Marex Spectron's extensive international network covers Europe, Asia and North America markets.
State-of-the-art electronic and voice broking services facilitates all types of trading strategies. This is backed by decades of experience, with Marex Spectron placing great emphasis on intellectual knowledge and insight, alongside access to extensive data sets and the latest analytical tools. Its clients are commodity producers and consumers, banks, hedge funds, asset managers, brokers, commodity trading advisors and professional traders.