3 March 2023 – SAVANT customers knew days and weeks in advance of the strong Chinese P1 and P2 copper production. We saw it coming. Did you?
"COPPER STOCKS SOAR ON STRONG CHINA MANUFACTURING ACTIVITY"
"Glencore, Anglo American, Antofagasta and London-listed shares of Rio Tinto gained between 3.3% and 4.6%, tracking higher copper prices."
[Credit: Reuters]
China Smelter Production – Present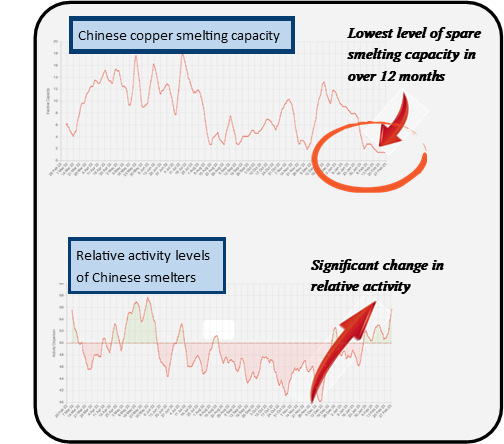 The SAVANT platform monitors up to 90% of the smelting capacity for copper and nickel round the globe. Using daily updated sources, including extensive use of geospatial data collected from satellites, the index reports on the activities at the world's smelting plants offering subscribers unprecedented levels of coverage, accuracy and reliability. This dataset allows users to make better informed and more timely trading decisions.
Want to know more then call us on +44 (0)333 433 0015 or email us at savant@earthi.co.uk.
Want to try SAVANT sign-up here for a trial of the SAVANT service or read the Nasdaq report card on Savant here: MGST Report Card.
About Earth-i
Earth-i is a geospatial intelligence company using machine learning, artificial intelligence and Earth Observation data to provide unique and relevant insights, derived from diverse geospatial data, that deliver clear decision advantage for businesses, governments and other organisations.
Earth-i provides advanced analytics using automated interpretation of a range of geospatial Earth Observation data sources including colour imagery, colour video, infra-red and radar from a range of sources including satellite, drone, aerial and ground-based sensors. This data is fused with additional data sources to extract factual understanding and generate predictive insights across a range of markets such as commodities, supply chain, agriculture, infrastructure and defence.
For more information visit:
Website: www.earthi.space
Twitter: @Earthi_
LinkedIn: Earth-i
About Marex
Marex is a diversified global financial services platform, providing essential liquidity, market access and infrastructure services to clients in the energy, commodities and financial markets.
The Group provides comprehensive breadth and depth of coverage across five core services: Market Making, Execution and Clearing, Hedging and Investment Solutions, Price Discovery and Data & Advisory. It has a leading franchise in many major metals, energy and agricultural products, executing around 38 million trades and clearing over 193 million contracts in 2021. The Group provides access to the world's major commodity markets, covering a broad range of clients that include some of the largest commodity producers, consumers and traders, banks, hedge funds and asset managers.
Marex was established in 2005 but through its subsidiaries can trace its roots in the commodity markets back almost 100 years. Headquartered in London with 22 offices worldwide, the Group has over 1,300 employees across Europe, Asia and America.
For more information visit www.marex.com